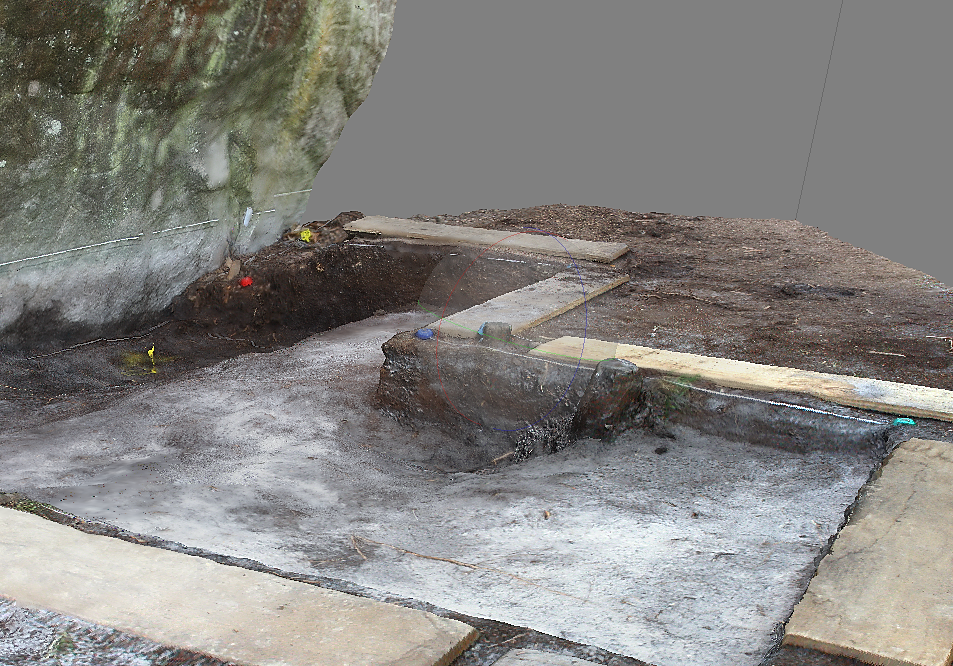 Shooting / Prise de vue
47 photographs were taken (18mm, F/13) with the flash, at heights spanning from 10 cm to 1 m from the ground. The surrounding stabilisation boards were left, to help Photoscan rebuilding the geometry. The photo series was imported into Photoscan.
47 photographies ont été prises (18mm, focale F/13) au flash à des hauteurs variant de 10 cm à 1 mètre du sol. Les planches de stabilisation pourtourantes ont été laissées afin d'aider Photoscan à remonter la géométrie. La série de photos est importée dans Photoscan.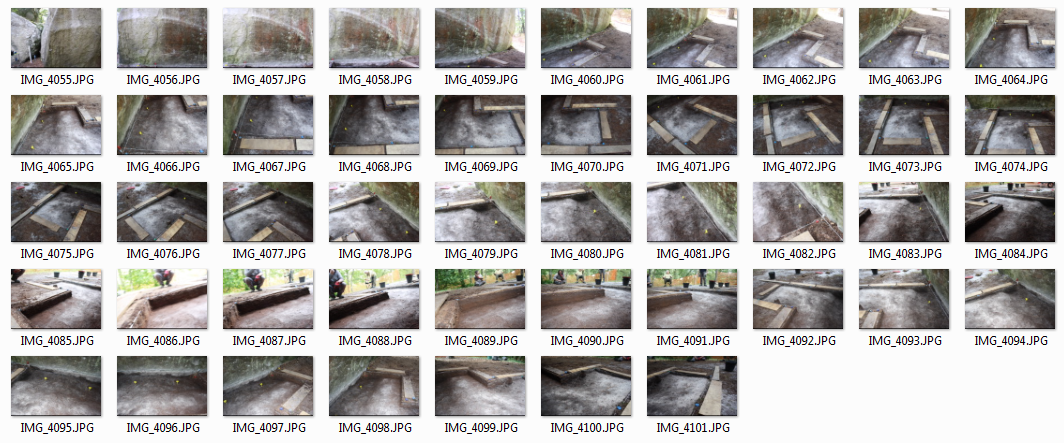 In Photoscan, the right menu is "workflow/add photos" and you should select all the shooting files. The first processing phase consists in aligning the photos, and you need to go back to "workflow /align photos"…
Dans Photoscan, il faut aller dans le menu « traitements / Ajouter des photos » et sellectionner l'ensemble des fichiers de la prise de vue. Le premier traitement consiste à Aligner les photos, il faut de nouveau aller dans « Traitements / Aligner les photos… »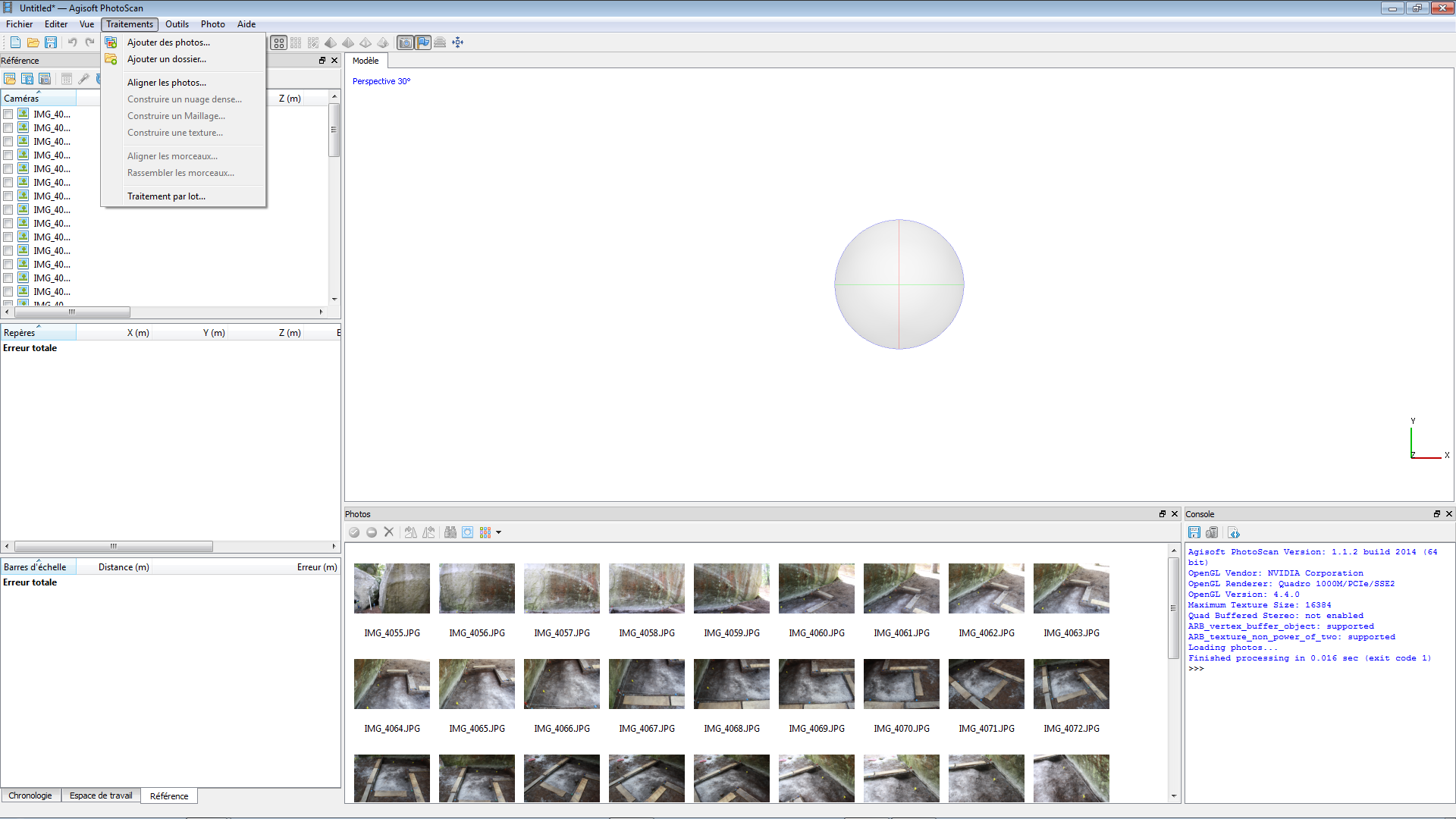 Once the calculation is done, the photos are positioned at the camera's place when the shooting happened, and a light point cloud briefly describes the geometry.
Une fois le calcul effectué, les photos sont positionnées à l'emplacement de l'appareil au moment de la prise de vue et un nuage de point léger décrit sommairement la géométrie.

Then, you need to click on "workflow /build a dense cloud"…
Il faut aller ensuite dans « Traitement / Construire un nuage dense… »…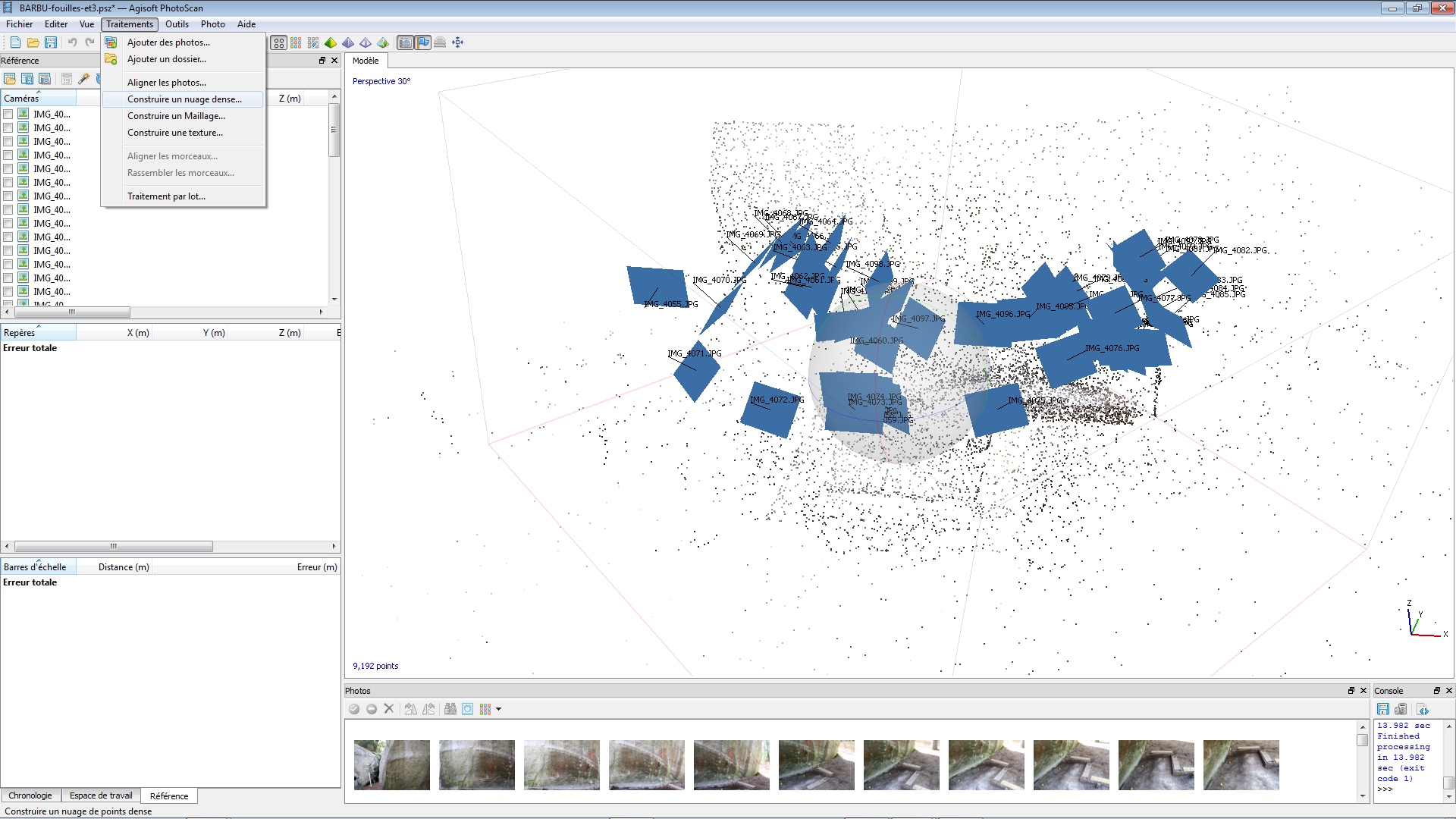 … and choose "quality: high" and "filtering: aggressive".
… et choisir qualité : Haute et Filtrage des profondeurs : Agressif.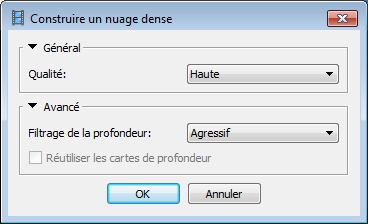 Once the calculation is done, the result is visible by clicking the "dense cloud" button

. It is also possible to hide the cameras, to better detail the results, by clicking on the "Show cameras" button.

The resulting cloud is made of more than 16 million points.
Une fois le calcul effectué, l'on peut voir le résultat en cliquant sur le bouton « Nuage dense »

, il est également possible de masquer les caméras, afin de mieux détailler les résultats, en cliquant sur le bouton « Afficher les caméras »

.
Le nuage obtenu fait plus de 16 millions de points.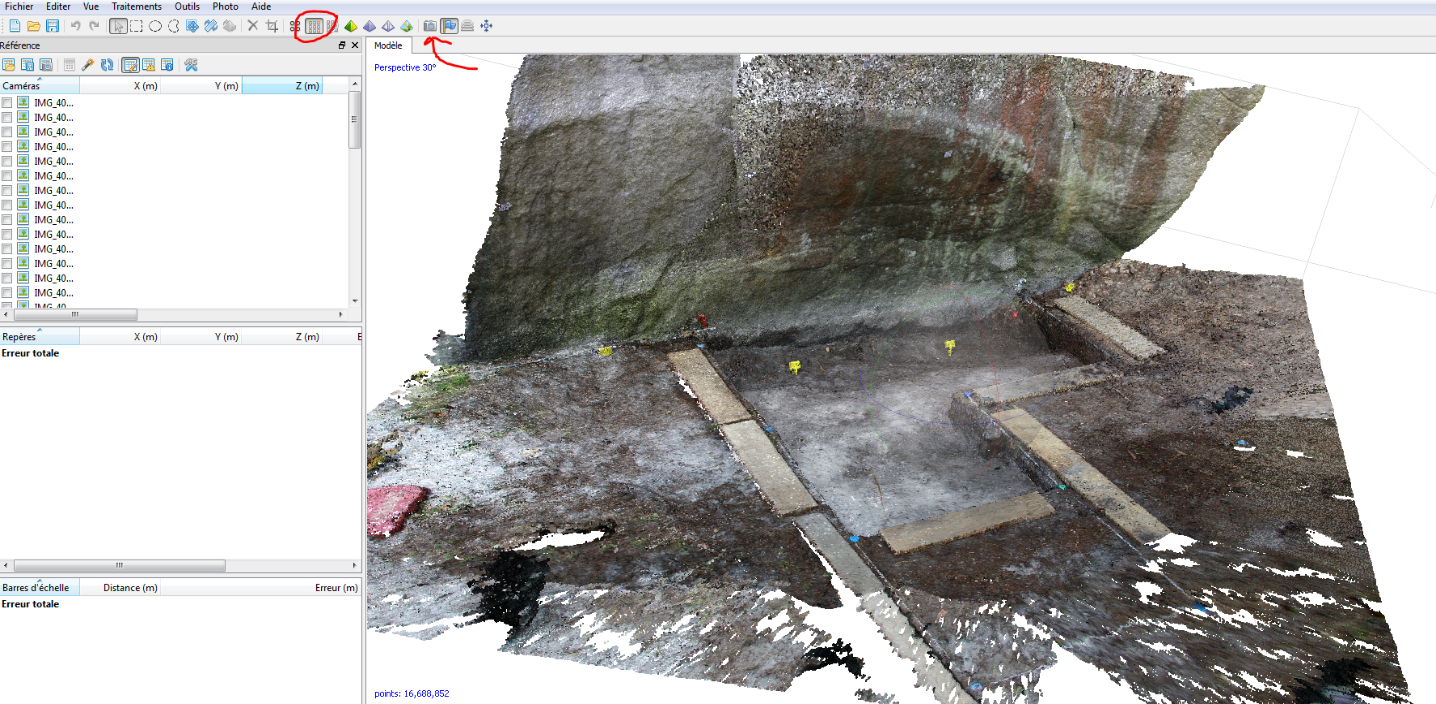 The second step consists in creating a grid from a dense grid. After clicking on "Workflow/build a grid", a menu suggests to choose between the type of surface, the data source and the number of faces. We keep the default choices and launch the calculation.
La deuxième étape consiste à créer un maillage d'après le maillage dense. Après avoir cliqué dans le menu « Traitements / Construire un maillage… », une palette propose de choisir entre le type de surface, la source des données et le nombre de faces. On conserve les choix par défaut et on lance le calcul.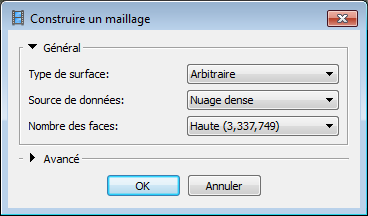 This step is quicker than the previous one. The resulting grid, visible by clicking on the "colour-shaded"

button, is made of more than 3 million faces.
Producing a texture.
Cette étape est plus rapide que la précédente. Le maillage obtenu ici, visible en cliquant sur le bouton « Ombré en couleurs »

fait plus de 3 millions de faces.

Producing a texture./ Produire une texture.
The last step consists in creating a texture. We go back to "Workflow/building a texture". The question of texture will condition the rest of the work. In fact, the organisation of the pixels according to the grid will help, or not, the continuation of the operations, depending on what we want to produce. If the model remains a high definition model used to print boards, to create orthoviews for example, the question is less significant. If it a question of working on visual aspects to highlight pieces of information, or if it is about eventually creating a model working in real time, the most continuous texture possible will be needed, which will be then worked on with a drawing software.
La dernière étape consiste en la création de la texture. On retourne dans le menu « Traitements / Construire une texture… ». La question de la texture va conditionner la suite du travail. En effet, l'organisation des pixels en fonction du maillage va faciliter ou non la suite des opérations selon ce que l'on cherche à produire. Si le modèle reste un modèle haute définition servant à l'impression de planches, pour créer des orthovues par exemple, la question est moins prégnante. S'il s'agit de travailler les aspects visuels pour faire ressortir de l'information, ou s'il est question de créer à terme un modèle fonctionnant pour le temps réel, il faudra dès lors obtenir une texture la plus continue possible, que l'on pourra ensuite retravailler avec un logiciel de dessin.
Orthophoto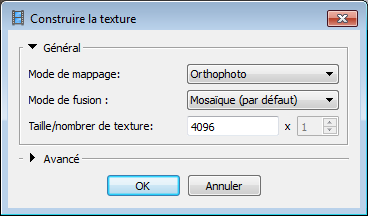 The result of this calculation can be found in "Tools/Grids/Show the UV coordinates".
Le résultat du calcul s'obtient dans le menu « Outils / Maillages / Voir les coordonnées d'UV… »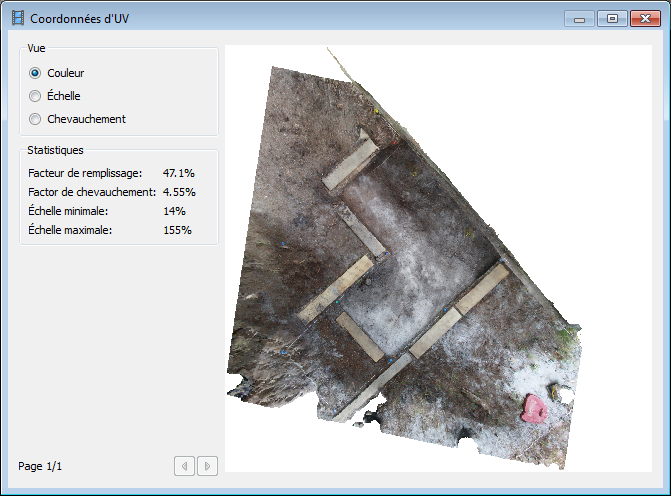 In this case, the orthophoto gives the result below. The subject being two orthogonal planes, the orthophoto will create a projection on only one of the planes. The other will be processed in projection, hence the impression of "run-outs" on the rock's face's texture.
Dans le cas présenté ici, l'orthophoto donne le résultat ci-dessous. Le sujet se présentant comme deux plans orthogonaux, l'orthophoto va créer une projection sur l'un des plans uniquement. L'autre sera traité en projection d'où l'impression de « coulures » sur la texture de la face du rocher.

Adaptative orthophoto / Orthophoto adaptative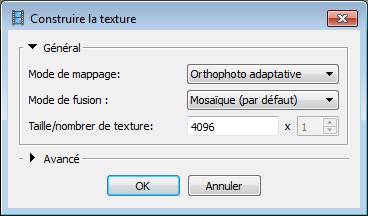 Here, the unfolding works in a better way, and the panel is accurate. However, small textural blocks remain smashed.
Ici, le dépliement fonctionne mieux, la paroie est conforme à la réalité. Des petits blocs de textures restent cependant éclatés.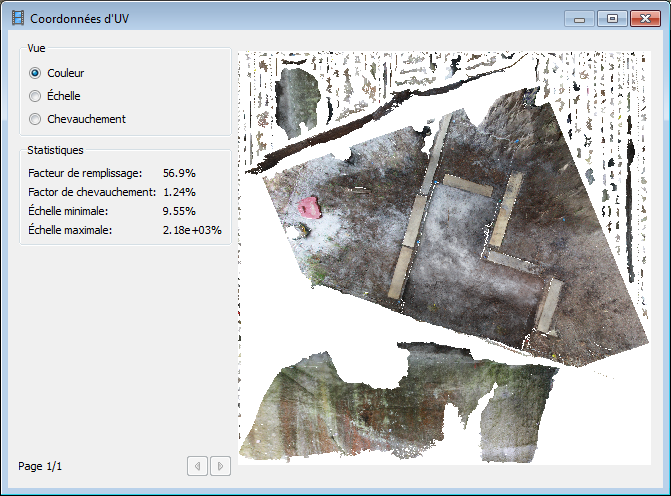 The rendering is clean. / Le rendu est propre.

The rare darker points come from a modelisation problem and the texture cover, which will be easy to correct later.
Les quelques points plus foncés viennent d'un problème de modélisation et du recouvrement de la texture, qu'il sera assez facile de corriger par la suite.
Generic / Générique
The generic choice will break the texture into small fragments, with which it will be hard to work later.
Le choix générique va émiéter la texture en petits fragments avec lesquels il sera difficile de travailler par la suite.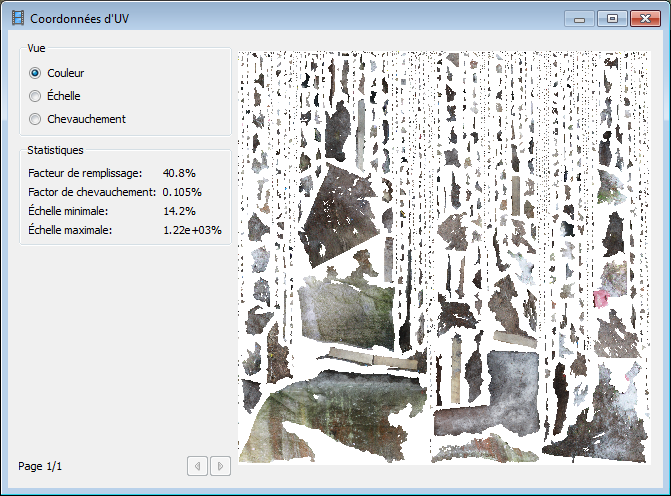 The visual result is nonetheless very satisfactory, the flaws from the previous calculation are no longer visible, the pixels match the geometry in a better way.
Le résultat visuel est cependant très satisfaisant, les défauts du précédent calcul ne sont plus visibles, les pixels collent au mieux à la géométrie.
Two parameters will then perform: the filling ratio of the image basis or, in other words, the number of pixels in the 4096×4096 (considered as a high-resolution texture) used to carry the information, and the model's pixel/mm² or cm² ratio. In our case, the visual information gives little information on the engraving, and it mostly helps with the reading. However, in other cases, this aspect is paramount.
Deux paramètres vont jouer ensuite : le taux de remplissage de la base image ou, exprimé autrement, combien de pixel sur les 4096×4096 (consédéré comme une texture en haute résolution) sont utilisés pour porter de l'information, puis le ratio pixel / mm² ou cm² du modèle. Dans notre cas, l'information viselle renseigne peu sur la gravure, elle est surtout une aide à la lecture. Mais dans d'autres cas, cet aspect est fondamental.
Spherical / Sphérique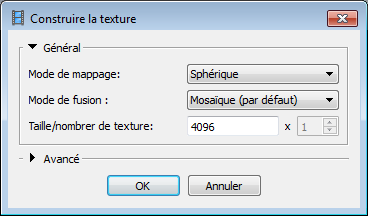 In the case of the spherical texture, the visual result is very interesting, and the filling ratio is optimum. However, the ulterior processing of the image is very complex, and perhaps impossible, given its distortion.
Dans le cas de la texture sphérique, le résultat visuel est très intéressant et le taux de remplissage optimum, toutefois, l'exploitation ultérieure de l'image est très complexe, voir impossible, de fait de sa déformation.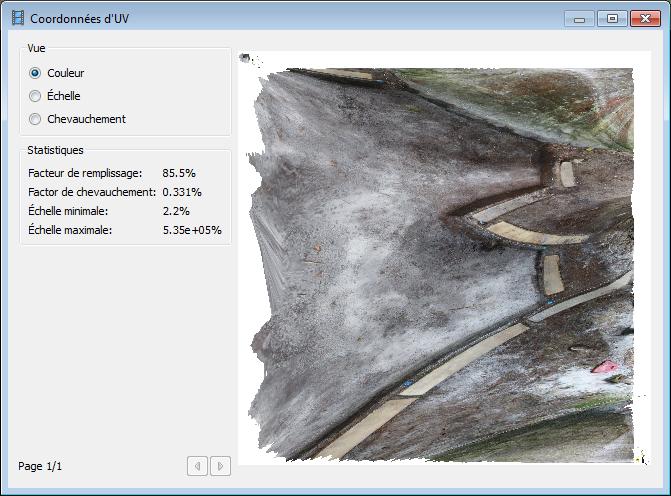 The scale distortions are visible in red.
Les déformations d'échelle sont visibles en rouge.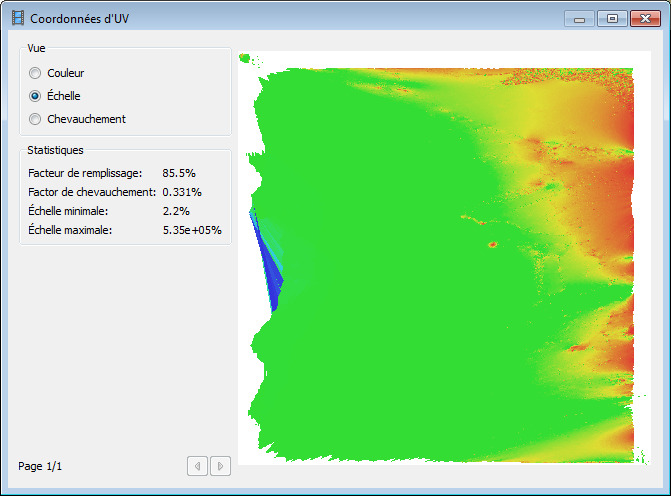 Scaling / Mise à l'échelle
The last step consists in the model's scaling. First, the grid's nails will be used. In the 3D screen, place a first point with "right click/create a mark", then place two others in such a way that it creates an orthonormal system.
La dernière étape consiste en la mise à l'échelle du modèle. Dans un premier temps, seront utilisés les clous du carroyage. Dans la fenêtre 3D placer un premier point avec « Bouton Droit / Créer un repère », puis en placer deux autres de telle manière à créer un repère orthonormé.

To create a scale bar, you need to select two points and click "right click/create a scale bar", and repeat the operation for the other point.
Pour créer une barre d'échelle, il suffit de selectionner deux points puis cliquer « Bouton Droit / Créer une barre d'échelle », puis renouveler l'opération avec l'autre point.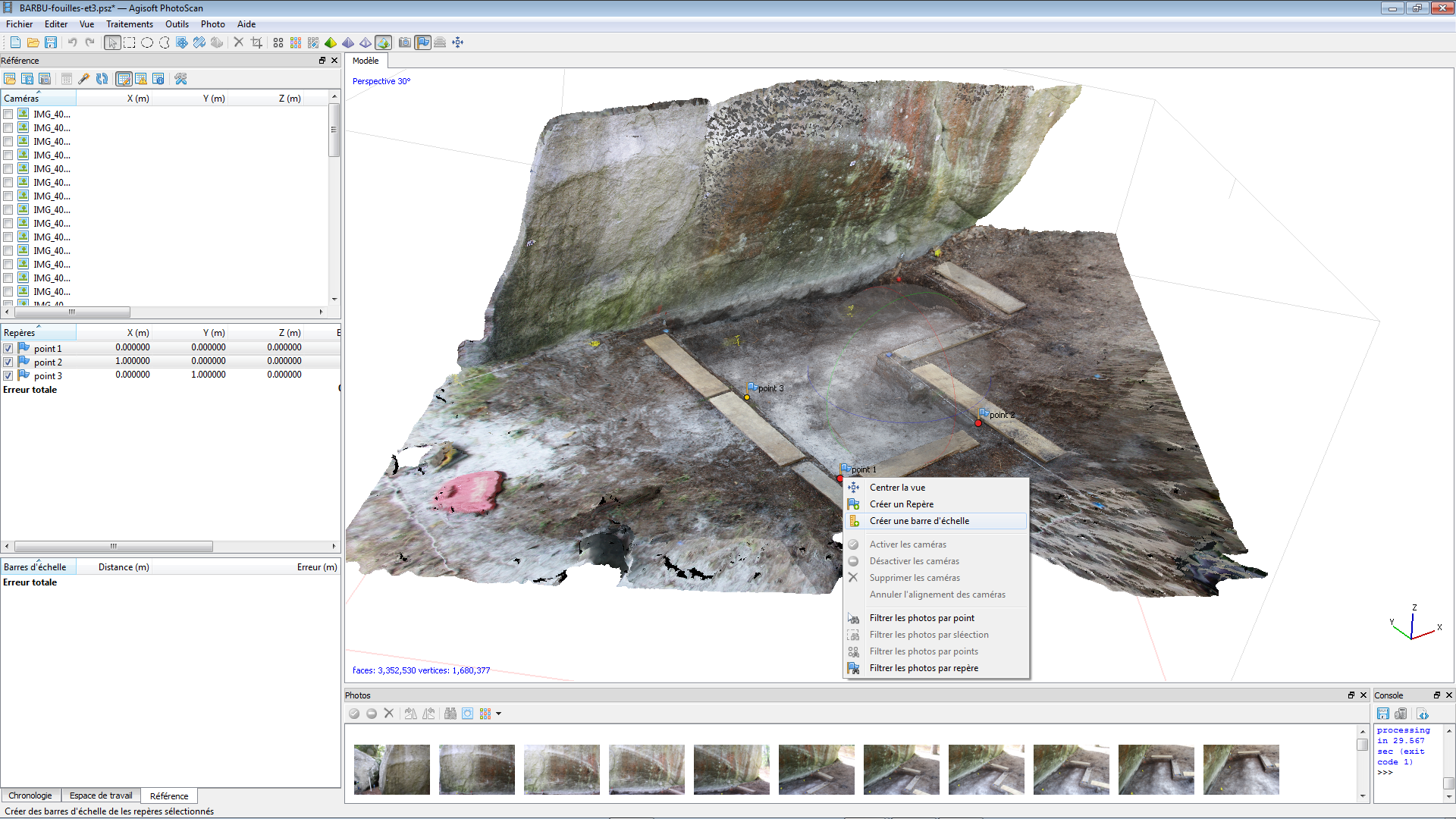 To fill in the points' coordinates, activate the "reference" tab to show the details of points and markers.
Pour renseigner les coordonnées des points, activer l'onglet « Référence » pour voir appaitre les détails concernant les points et les repères.

On the line of points, we give numbers to X and Y, corresponding with the markers. In the scale bar, we indicate the right distance. We should not forget to update afterwards.
Dans la ligne des points, on donne des valeurs en X et Y correspondant au repère, puis dans la barre d'échelle, on indique la bonne distance. Il faut ensuite penser à Mettre à jour.